Your U.S. Immigration Experts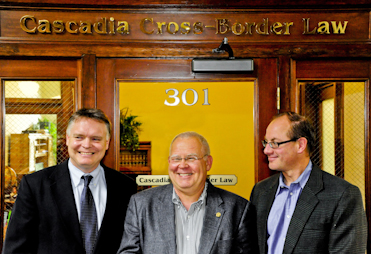 U.S. immigration law is often perplexing to those who desire to enter or stay in the United States for business or other reasons.  Such confusion is not surprising as the rules are extremely complex and subject to frequent revision in agency interpretation.
The experienced attorneys at Cascadia Cross-Border Law will guide you through myriad complexities to determine the best solution for your particular situation. We can provide knowledgeable representation with a long history of success with our Canadian clients from Vancouver to Toronto, as well as other clients from around the world. A consultation with one of our experts will save considerable time, expense, and inconvenience in solving the immigration puzzle. Our clients include a broad range of established businesses and persons of talent. Our immigration experts regularly meet with clients at our offices in Bellingham, Washington and Vancouver, British Columbia.
Our website provides an introduction to U.S. immigration law and procedure as it relates to brief business trips to the U.S., establishment of a U.S. branch for a foreign business, investment in or international trade with the U.S., employment by a U.S. company, and a variety of other business immigration matters.
In this regard, a number of categories of temporary (non-immigrant) business visas exist. Additionally, there are several categories of permanent resident (immigrant) visas based on offers of U.S. employment or investment in a new U.S. business.  Permanent resident visas may also be available in cases where a qualifying family relationship with a U.S. citizen or permanent resident exists.
Our experienced lawyers will guide you through the process of selecting the appropriate visa for your particular circumstance. Please Contact Us to set up a consultation with one of our immigration experts.
At Cascadia Cross-Border Law, we create transparent borders!
Welcome Glenda!
Cascadia Cross-Border Law would like to extend a warm welcome to our newest attorney, Glenda McGraw Regnart.  It is a privilege to have Ms. Regnart's knowledge and expertise from her lengthy history of federal service in the fields of immigration and national security law.
Ms. Regnart most recently served as Chief Counsel for the New Orleans Field Office for U.S. Immigration and Customs Enforcement (ICE), within the Department of Homeland Security.  During her tenure with ICE, Ms. Regnart served as a designated national security attorney, litigated cases of special interest, including "Continued Detention Review" proceedings involving aliens determined to be especially dangerous, and served as lead counsel to Enforcement and Removal Operations for the New Orleans Field Office.
Prior to her employment with ICE, Ms. Regnart served as judicial law clerk for the United States Bankruptcy Court for the Western District of Tennessee as well as the United States District Court for the Northern District of Mississippi.  Ms. Regnart graduated cum laude from Mississippi College School of Law in 1998, and is a member of the Alaska and Mississippi Bar Associations.  She is a native of Lecompte, Louisiana, and holds a Bachelor of Science degree from Louisiana College, Pineville, Louisiana; a Master of Business Administration degree from the University of Louisiana, Monroe, Louisiana; and a Juris Doctor from Mississippi College School of Law, Jackson, Mississippi.
Please join us in congratulating Ms. Regnart on becoming the newest member of the Cascadia Cross-Border Law team.  It is an honor to have her become a part of our continuing mission of "Creating Transparent Borders."