Posts Tagged 'Conrad'
Friday, November 9th, 2018 by W. Scott Railton
Historically, Washington State has been slower to fill its 30 allocated J-1 waiver physician spots than many other states.  As of this writing, the Washington State Health Department has published that it has received 17 applications for J waivers so far, with 9 applications fully approved.  The State has already received 10 specialist petitions, and 5 of those are fully approved.
What next?
We are presently in a timeframe where primary care applications for health professional shortage areas are the only ones which have a guaranteed spot.
On January 15th, the State will open up the application window for primary care FLEX spots—positions which are not in a health professional shortage area but which serve an underserved population.
On April 1st, the agency will approve additional Specialist applications. As the agency has not approved all 10 Specialist petitions received yet, it may still be worthwhile to inquire on handling of Specialist applications in the interim, in case one or more of those received so far is non-qualifying.
J-1 waiver applications require that the sponsor show that at least 15% of the total patient visits are for Medicaid or other low income patients.  Employers have to be able to document at least six months of unsuccessful recruitment in the last year for the position.  Employers also must have a sliding fee scale, which is posted for patients, and there are specific employer-physician contract requirements.
Facilities and physicians interested in seeking a Conrad J-1 wavier based on the Washington State program should not tarry.  It is hard to predict how fast the remaining spots will go.  Last year, a few spots remained until the very end of the year.  If recollection serves me, the year before, the agency received 34 applications for 30 slots, well in advance of the end of the year.  Oregon last year filled up long before the end of the year.
We have a great deal of experience helping facilities and physicians navigate the Conrad waiver process, all the way to permanent residence. It is meaningful and rewarding work, which we care greatly about. Feel free to contact us if you'd like to schedule a consultation.
Tags: Conrad, J-1 waiver, physician
Posted in General, Scott Railton |
Thursday, April 13th, 2017 by W. Scott Railton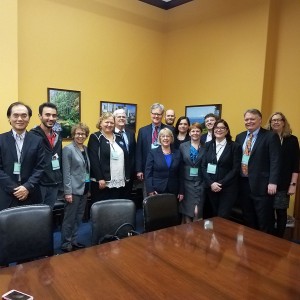 I visited Washington D.C. last week, to take part in the American Immigration Lawyer Association's National Day of Advocacy. This is an annual event, where my lawyer organization encourages members to meet with Senators and Representatives to discuss immigration issues.
And there are issues. Many issues. Immigration continues to be headline news. Real policy and law-making requires consideration of details and implications. As far as I can tell, Congress is getting nowhere.
This is pretty much acknowledged by staffers. By now, they know the sad stories, such as the Dreamers and the emphasis on deportation. They are aware of the flawed system with H-1Bs and other worker authorizations. They know about the backlogs. Stalemate and non-cooperation leave these challenges for another day, again and again.
I had the opportunity to meet with staffers from the offices of Senator Murray, Representative Larsen, Representative Del Bene, and Representative McMorris Rodgers. Senator Murray and Representative Larsen were able to meet briefly as well. I and my colleagues greatly appreciated the meetings, and we had some good discussions.
Our office stays in close contact with our elected officials.  Last week, my comments focused on things I'm seeing in practice lately, which might not be getting the attention they deserve. CBP officers are taking statements from applicants for admission on past marijuana use, and then barring them for life after people answer truthfully that they did, in fact, inhale. They are also doing extensive searches of people's phones and computers, without reasonable suspicion. USCIS is issuing requests for evidence on cases without justification, at ever increasing rates. Physicians are getting caught up in the administrative dysfunction, with the suspension of premium processing and rotations turning over mid-summer. Also, the Conrad program for physicians who serve underserved communities is caught in the undertow of the more controversial EB-5 renewal. And of course, our national security has been harmed by some of the thoughtless policies that have been proposed. I also see that clients are just plain concerned.
It is a time for advocacy. I believe that America is still a nation of immigrants. America has gone through phases before. I also believe our Bill of Rights protects people from injustice, including noncitizens and immigrants. So, it's a good idea to keep calling on our elected officials, and be engaged. That's what we're doing.
(Photo taken by our colleague Erin Zipfel, with Senator Murray and other colleagues)
Tags: advocacy, Cascadia, Conrad, immigration, physician, Scott Railton, Washington D.C.
Posted in General, Scott Railton |
Tuesday, February 14th, 2017 by W. Scott Railton
The Oregon J-1 Waiver Program for physicians traditionally is slower than many states to fill its statutorily allotted 30 Conrad recommendations. In 2016, Oregon used all 30 of its slots. Indications are that the slots will all be used again by the end of the current fiscal year. In comparison, Washington State has filled its slots the last few years, typically by around mid-year. Alaska, Montana, and Idaho have used the program sparingly.
The Oregon program has a $2000 application fee, which helps the State administer the program. The recommendations are managed by the Oregon Primary Care Office, which is part of the Oregon Health Authority's Office for Health Policy and Research. The signatory to the recommendations is currently Director Marc Overbeck. The Program Coordinator is Dia Shuhart (503-373-0364). Oregon keeps track of applications as they are being prepared, and so it is a good idea to contact Ms. Shuhart before proceeding with an application. Certain rules have changed, and such communication is encouraged.
The Oregon regulations for their J-1 program can be found at OAR-409-035. Some points of note:
• Applications are adjudicated on first come, first served basis. The State regulations say the case will be handled within 15 days. Usually it is faster, if everything is in place.
• Oregon will grant FLEX spots. None were granted in 2015, and four in 2016. The applications should be vetted with the State ahead of time.
• Placement priority is with primary care, including Family Medicine, General Internal Medicine, Pediatrics, OB/GYN and General Psychiatrists.
• If a health care facility is located in a Medically Underserved Area (MUA) or Medically Underserved Population (MUP) that is not a Health Professional Shortage Area (HPSA) or if the request is for a flex option, then the facility must obtain prior approval from the Authority and provide documentation substantiating the area's need for a physician.
• At least 40 percent of patients must be Medicaid, Medicare or other low income patients. At least 26% of the 40% must be Medicaid eligible, either through the Oregon Health Plan or through low income Medicare dual eligibility. Low income, uninsured is defined as 200% or less of the current Federal Poverty Guidelines. Note: The 26% requirement is subject to change at the start of each program year, depending on the statewide percentage of Medicaid enrollees.
• Medicaid patients must represent a share of the overall facility's patient population equal to or greater than the statewide percentage of the population eligible for Medicaid at the beginning of each program year as determined by the Authority. If this is not the case, a plan must be presented.
• Document attempts to actively recruit an American doctor for at least six months prior to submission of the application.
• Eighty percent of the slots allotted for each federal fiscal year are reserved for primary care physicians as defined in OAR 409-035-0010. Applications from community health centers with HPSA scores below 7 and from mental health facilities shall receive priority. The rules also state a preference for geographic distribution of the slots, and a cap of six per employer. The rules leave latitude for the program to adjust priorities according to changing needs.
Applications are mailed to:
Physician Visa Waiver Program
OHA-Health Policy & Analytics
500 Summer Street NE, E-65
Salem, OR 97301
Program details are subject to change. We are happy to assist, as need be. Oregon's program website is here:
https://www.oregon.gov/oha/OHPR/PCO/Pages/J1.aspx
Tags: Conrad, J-1 waiver, Oregon
Posted in General, Scott Railton |